Hunting for Conservation
It's easy for people to call hunting evil, especially when they are ill-informed and don't have to provide a viable alternative. We have hundreds of anti-hunters out a year, and very few if any leave with the notion that what we're doing is evil.
If you're here to judge us, I ask that you do so only after visiting Ox Ranch and seeing for yourself how happy and well taken care of our animals are.
My name is Brent Oxley, and I'm the owner of the 18,000 acre Ox Ranch. I'm going to present some facts, opinions, and most importantly a greater insight into our hunting operation.
The ranch does $200,000-$400,000 a month in sales while continuing to go on and lose $2,000,000 a year. I'm not only spending 100% of the money that is brought in from hunting operations but am donating an additional $2mm+ a year to feed and care for our thousands of wildlife. If you add in all the misc one-time expenses such as fencing, feeders, cabins, Jeeps, $5mm worth of new species & herds, this number quickly balloons to $10+mm in losses for 2017.
Wildlife conservation is all about sustainability, and one of the few proven ways to get there is through hunting. I can't lose money forever as that's not sustainable to me, or the animals that depend on my funding to feed them.
Luckily for Ox Ranch, our hunting operation is currently growing 40% a year. We can double our current amount of business without affecting the current level of service and exclusivity that we provide. Anything more than this and we'd be jeopardizing both our reputation as well as sales.
The goal is to get to break even within two years time. We will accomplish this goal by lowering our $800,000 a year marketing budget, raising prices, and from buying fewer animals thanks to more sustainable herds.
I'd happily shut down hunting operations tomorrow if someone volunteered to pay our expenses. The reality is that nobody has done this and nobody ever will. I don't receive taxpayer aid, and to the contrary, the ranch has to pay $100,000's a year in government taxes.
Photo safaris aren't going to cover the millions in losses either. We've offered photo safaris on our site for years and have only had a few thousand dollars worth of takers. This plan could potentially work if we were less than two hours from San Antonio, didn't have taxes, and were 100 acres vs. 18,000.
I guarantee it's a lot more humane to be shot by a bullet than eaten alive by a lion! I recently got back from a photo safari trip to Africa and witnessed this very act. It was no wonder that my girlfriend and I saw 10,000's of skulls and bones scattered throughout the Serengeti!
I think people forget how cruel nature can be. We lose more animals from interspecies fighting, weather, poisonous plants, and broken legs than we could ever hunt here at Ox Ranch.
If you're an anti-hunter, I recommend you cease to eat meat immediately! The animals hunted at Ox Ranch are harvested for food and live a much happier and painless life, than the animals forced into the slaughterhouses representing the McDonalds and Wholefoods of the world. Yes, I said Wholefoods of whom charges a premium for their "strict animal welfare standards" (Smith, 2013). The Washington Post wrote an interesting story on a suit filed against them regarding the legitimacy of these claims (Moyer, 2015).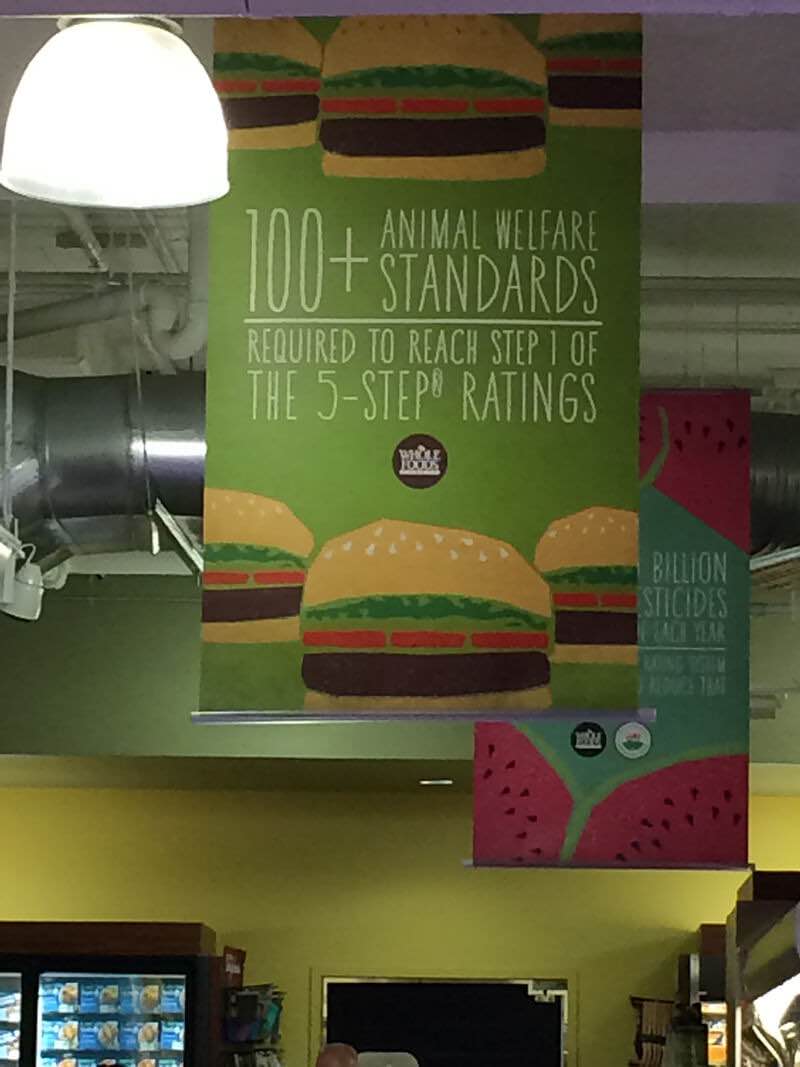 I'm willing to bet $25,000 that Ox Ranch's animals quality of life beats the highest rated Wholefood's national distributors. I challenge any anti-hunter to take me up on this bet and prove me wrong. The requirement to collect on this bet is that the investigation will require on-site documented proof of both the national distributor as well as Ox Ranch. I believe Wholefoods is the gold standard of the grocery world and is the very reason I'd like our animal well-being compared to theirs.
You'll also find that our animals are happier and healthier than those confined to small enclosures in zoos. I recently visited a zoo for the first time since purchasing Ox Ranch and was saddened to see how depressed the animals looked. The most shocking thing that I noticed was how dull and unhealthy the animal coats looked.
Ox Ranch is 18,000 acres, and while it's a huge property, the land can only sustain so many animals. The property was overgrazed before my purchase and continues to be so. If it weren't for the $500,000 we spend a year on supplemental feed hundreds if not thousands of animals would starve to death.
The wildlife population would double every two to four years if the ranch were absent of both predators and hunters. This growth would ultimately result in our feed bill growing exponentially, and at some point, either predators or hunting would once again be the solution. Ox Ranch doesn't have any predators. However, we do have plenty of hunters to help offset a portion of our losses as well as keep herds in check.
Australia is one of if the not the most prominent anti-hunting and gun countries in the world, and yet they slaughter around 5 million kangaroos annually according to government reports. (Gray, 2013). The independent.co.uk reports 1.5 million were murdered in 2015 to protect grasslands and wildlife. (Bulman 2017). The worst thing is that I'd be surprised if they harvest even a small percentage of this slaughter for food!
What do you do with populations that don't have predators and whose numbers keep growing? Should we let these animals starve to death when the land can't support them?
It's funny how many people are anti-hunting but support what Peta is doing. According to the HuffingtonPost Peta took in $51,933,000 in donations in 2014, while simultaneously murdering 81% of the of animals at it's Norfolk, Virginia shelter (Greenwood, 2015). Ox Ranch takes in $0 in donations, is losing millions of dollars, and hunts just a few percent of our animals a year.
It's horrible to hear this, but if there were a viable alternative for these animals, I'm confident Peta would be doing it.
There are somewhere around 550,000 whitetail deer hunted a year in Texas with an additional 100,00 killed from car accidents (Tompkins, 2008). I can't even begin to imagine how many car accidents there would be if the state didn't offer hunting permits to control their population. The accident totals would continue to compound as the grass in the fields becomes further overgrazed, and the highway grass became more desired.
Any solution besides hunting, euthanizing, culling, or whatever else you may call it, is a band-aid solution until funding or food runs out. Eventually, Earth's population is going to hit an unsustainable number, and humanity is going to have to make some difficult decisions. We either figure out a cheap form of space travel and colonization or be destined to a future filled with wars and famine.
It's all about sustainability, without sustainability there is no long-term solution. We have many endangered species at Ox Ranch, and while we hunt a few, their numbers continue to grow while shrinking in their native lands.
There's rarely a perfect solution, but the fact is what we're doing in Texas works, provides meat on the table, brings tax revenue in, and is saving many species from the brink of extinction such as the scimitar-horned oryx, addax, and dama gazelle. (Freemantle, 2012).
Thank you very much for taking the time to read this, as well as further educating yourself on what is a very sensitive topic. I invite you to continue the conversation by commenting below.
Sincerely,
Brent Oxley