Join Ted Nugent for his Birthday hunt!
We are booking our 2nd Annual Uncle Ted Birthday Hunt Bash at the Ox Ranch for December 2016, and if you seek a thrill that will cleanse the soul, this hunt is for you!
Paul and Toby at Sunrize Safaris 517.750.9060 can make it all happen. Ox Ranch, here I come! -Uncle Ted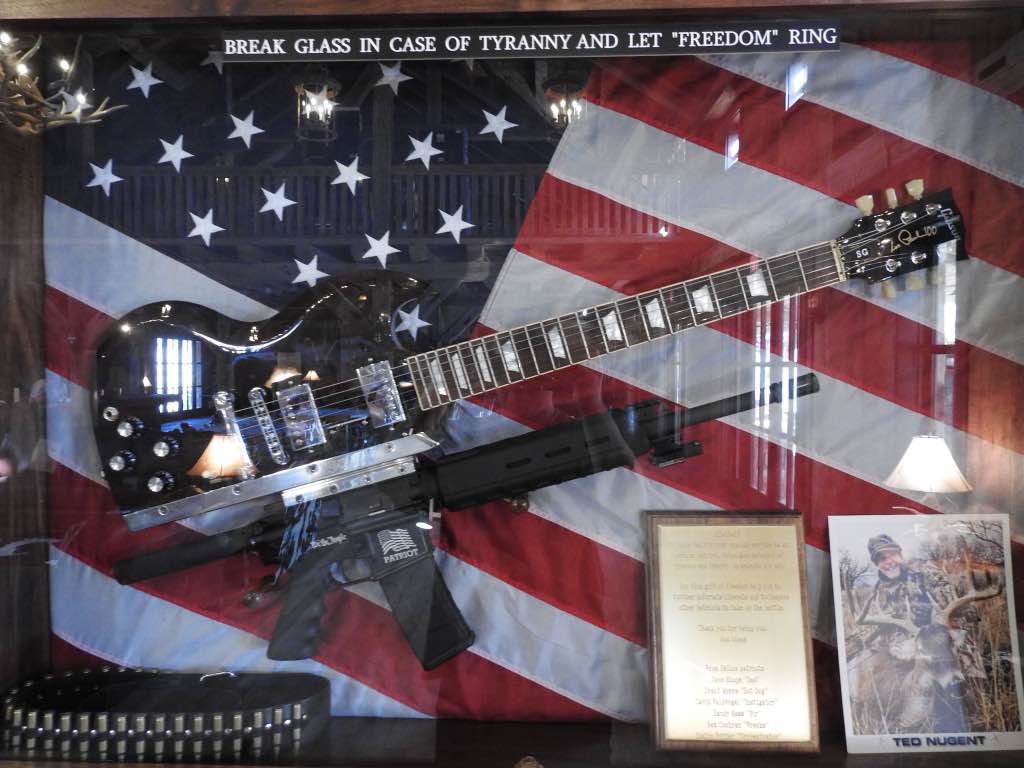 OX RANCH DREAMHUNT
by Ted Nugent
Texas. What a concept!
Texas deer hunting! Good Lord, what a dream reality!
Lord knows there is an endless array of unlimited attractions to the mighty Lone Star state when it comes to individual freedoms, private property rights, US Constitutional "we the people" representation, gungho friendly entrepreneurial climate, better than average regulatory conditions, the weather, damn good BBQ, friendly, neighborly spirit, honest to God real music lovers and much more.
But even with the incredible dream hunts that I was aware of many years ago way before I upgraded to Texas residency, I simply had no idea just how off the charts the hunting opportunities could be.
Like the best quality of timber found on private lands in America, the same can be said about the unbelievable quality of wildlife and wildlife habitat on the massive private landholdings in the Lone Star State.
Coming to Texas from my bowhunting upbringing with the spookiest, most fidgety whitetail deer in the world in my birth state of Michigan, I was completely unprepared for the sheer numbers, quality and calm disposition of the native whitetails.
Private landowners always take better care of our holdings than disconnected, often uncaring bureaucrats, and since 1975, you couldn't drag me away from the amazing bowhunting I celebrate every fall and winter in Texas.
It seems each year I experience another upgrade in dream deer hunting, and when I was invited to hunt the relatively new 18,000 acre Ox Ranch outside Uvalde, Texas, I took a day trip from phenomenal hunting at the YO Ranch, 3P Ranch, 4M Ranch, the 805 Ranch and some Big Iron Hunting Adventures properties in the region, I was as always optimistic that big fun awaited me.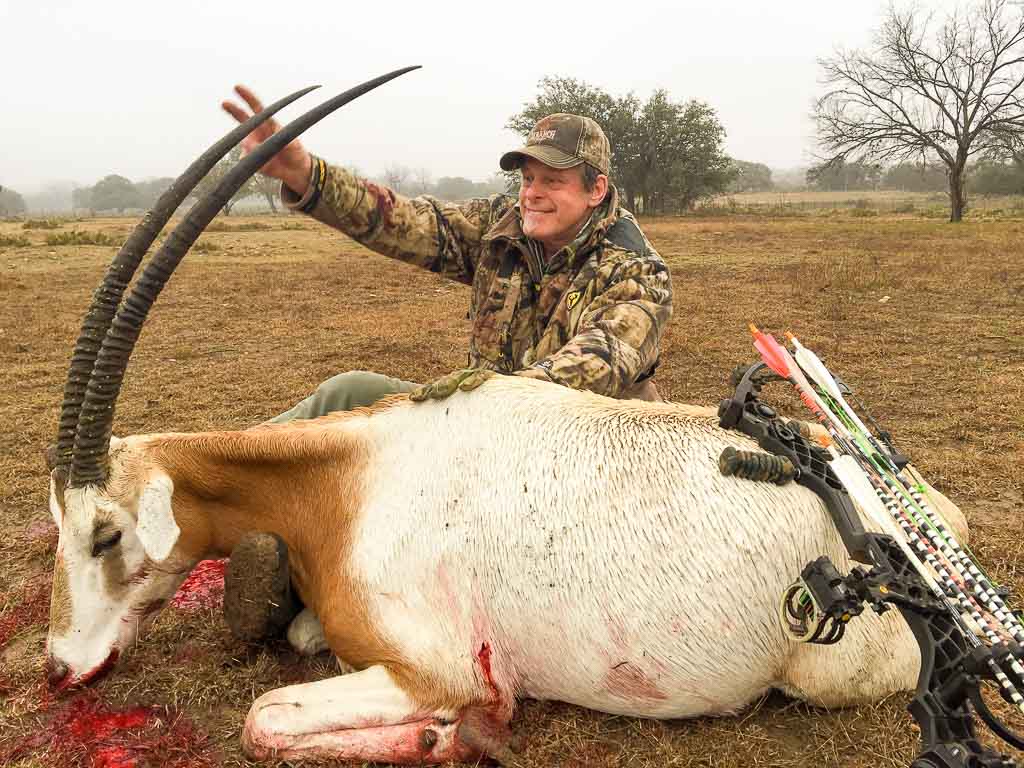 Created by a young Brent Oxley and under the management of the much respected, local hunting guru Tony Hardin, my first impression was stunning to say the least.
Driving around the beautiful rolling escarpment where the South Texas brush country melds seamlessly into the gorgeous rolling Hill Country, the beauty of the land, terrain, hills and rock-faced mountains was alluring enough to catch my fancy.
Add to the topographical eye-candy the never ending sighting of native and exotic wildlife, and this old hunter's heart set to some up-tempo pitter-pattering the entire time.
Whitetail deer were nearly always visible amongst the broken terrain, including many honest to God mature trophy beasts.
We saw herds of herds of beautiful axis deer, fallow deer, Sika, red stag, elk, blackbuck antelope everywhere, Scimitar horn Oryx, Addax, Zebra, eland, Asiatic buffalo, American Bison, African blue wildebeest, Aoudad, Corsican sheep, Mouflan sheep, Red Sheep, hogs, turkey, waterfowl and scores of every imaginable indigenous wildlife.
It was a hunter's and wildlife lover's spectacle to behold.
Crews of construction workers were busy assembling luxurious log cabins and a massive lodge.
I knew right away that this place would be perfect for my annual Ted Nugent Birthday Hunt Bash, and we immediately began plans to put together a one of a kind dream hunt for the upcoming December.
My hunters began to arrive in mid-December for my big party and everyone was crazy excited just from seeing all the game on the drive to the lodge.
We had bowhunters, rifle hunters, handgun hunters, black powder hunters and a bunch of spouses that were there just to enjoy the 5 star luxury of the Ox Ranch.
With a world-class chef preparing every meal and experienced guides handling the hunters, I am here to tell you that the Ox Ranch put on an event that everyone in attendance agreed was everything a hunt of a lifetime should be.
My hunters killed some magnificent trophy critters and I sent a number of mighty mystical flights of my arrows into some very special animals.
BloodBrother Razor Dobbs joined us for some good times and arrowed some fine animals for his Razor Dobbs Alive TV show on Sportsman Channel. He has vowed to return!
My Queen of the Forest wife Shemane arrowed a beautiful trophy whitetail 10 point buck with her sniper accurate Excalibur crossbow, and to say everyone had the time of their lives would be quite the understatement.
Brent and Tony have assembled a professional team at the Ox Ranch that takes care of every detail I can come up with after a lifetime of hunting to provide a top notch quality hunting adventure experience. You really have to witness it to believe it.
We are booking our 2nd annual Uncle Ted Birthday Hunt Bash at the Ox Ranch for December 2016 and if you seek a thrill that will cleanse the soul, this hunt is for you.
Paul and Toby at Sunrize Safaris 517.750.9060 can make it all happen. Ox Ranch, here I come!